Prescription Software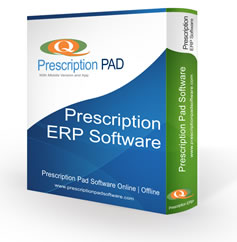 Prescription Pad software with Online and Offline Sync and Mobile APP
Prescription Software for Clinic / dispensary of any size. Very easy to use, multiuser and cost effective software to maintain Patient information, expense, Medical Record etc and create digistal prescription with drug information. Separate login facility for staff, personalized notice, mobile app, email, SMS alert and many more. Some features are explained below.
Request Demo

Patient Registration.
Patient Complaints
BMI calculation
Alergy,Medical History
Family History
Examination and Investigation
Prescription Printing
Drug detail with Interaction
Side Effect and Precautions
MIS Reports
SMS, Email and Graphical Report
Bill and Expense Management
Financial Accounting: Voucher, Ledger, Cash Book etc.
Progress Reports.
Multi user and multi level security.
Login for Patient (Optional)
Medical Certificate
Fitness Certificate
Discharge Ticked
And Much More

Product Features (Overview)

Patient Registration
Register patient, complaints, medical history, past diagnostics.

BMI Calculation
Automatic BMI Calculation based on age and Height

Billing
Easy billing and money receipt generation.

Employee Management
To manage your staff, their schedule etc.

Drug and Brand
Manage drug, from multiple brand for substitute.

Safety
Contra Indication, Reactions, Special Precautions.

Schedule Management
Allows generating, maintaining and monitoring timetables.

Prescription
Automated prescription management and printing.

Administration
All MIS reports with graphical presentation.

Certificate
Generate Medical certificate, fitness certificate etc.

Email and SMS
Effective communication between administration and Staff.

To Do List Manager
Easily manage to-do list for Staff or admin quickly.

Reminder and Alert
Important Dates Reminder and also facility to create alert for your team.

Custom Module
if you need any extra module or report, you may ask us to fulfill them.
Visit Also (Product Specific Website )

Product Price
Feature

Standard Version

₹ 21,500/ -



Advance Version

₹ 25,500/ -



Premium Version

₹ 35,500/ -


Patient Management
Billing
Admin Report
Staff Login
Expense
Financial Report
Payroll
Inventory
Multiple Doctor
Custom Domain
Unlimited Login ID
Patient Login ID
Custom Module