Online Hospital Software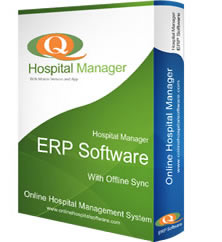 Full Featured Hospital Software to manage patient record, prepare prescription and GST Billing for Clinic or Nursing Home with Online and Offline Sync and Mobile APP
Hospital Management System will help the hospitals and nursing homes to set focus on various activities related to patients and also help staff to monitor the patient's Records. Hospital will use this software to manage Patients Registration Records, Complaints and Diagnosis, Outdoor/Indoor Receipts, Outdoor/Indoor Bill, Reminders to Patient's Bill, Pathology Lab and reporting, Medicine counter Purchase, Sale and Stock etc. Admin can access all details from anywhere anytime.
Request Free Demo
Indoor/Outdoor, Pathology, X-ray , ECG and Ultrasound, Medicine Counter.
Large Transaction Maintenance.
Report Mail Facility within Program.
Ready for Multi-user and support all version of OS and browser.
Manages Accounting and Inventory of your Hospital and Medicine Counter.
Easy to use and learn.
Doctors Reporting and MIS Reporting.
Maintenance of Stock.
Day wise / Month wise or any period wise report.
Doctor wise Report and incentive calculation
Complete Customization.
Facility to set font and colors.
Profit calculation.
SMS Facility
Agent maintenance and incentive.
Incentive report.
Department wise report.
Multiple format for Report Printing at the same time.
Visit Also (Product Specific Website )

Product Features

Patient Management
To Manage Indoor and Outdoor Patient,registration,history, Complaints, Diagnosis etc.

Doctor Management
Manage appointment with patient, Create prescription for patient, View diagnostic report of patients ect.

Agent Management
Manage agent or your marketing agent record with all details and maintain DCR, Incentive and TA etc.

Employee Management
To manage your staff, their schedule etc.

Expense Management
Manage all type of expanses like staff payment,e-bill,telephone bill etc.

Stock Management
Manage your hospital as well as Medicine counter stock easily.

Administration
Complete Administration Dashboard allow you to manage your Lab easily, quickly and efficiently.

Report
Audit and manage a variety of reports and have them ready for a quick review whenever necessary.

Email and SMS
Easy and quick way to send messages to any user in the system. Effective communication between administration, Doctor and Patient.

Custom Module
if you need any extra module or report in software provided, you may ask us, fill free to submit your requirement any time (After purchase subscription).

Reminder and Alert
Birth day reminder, Marriage Anniversary Reminder, Important Dates Reminder and also facility to create alert for your team.

Product Price
Branch facility @10K only.
AMC @ 20% of billing amount will be charged from next year.
Delivery will be instant, customization will take upto 5 working days, depending on workload.
Feature

Standard Version

₹ 65,000/ -



Advance Version

₹ 85,000/ -



Premium Version

₹ 1,25,000/ -


Indoor Patient Management
Outdoor Patient Management
Bed & Ward Management
External Service Management
Billing
Admin Report
Staff Login
Expense
Financial Report
All Type of Certificates
Pharmacy Billing
Pharmacy Inventory
Pharmacy Reports
Employee
Payroll
Agent Management
Hospital Inventory
Pathology Lab
Prescription
Unlimited Doctor
Custom Domain
Unlimited Login ID
Patient Login ID
Custom Module