Online Pathology Lab Software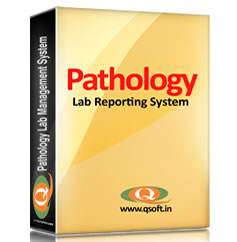 Full Featured Software For Pathology Lab Reporting and Management Online and Offline Version With Sync and Mobile APP
Pathology Reporting Software manages patient record in Pathology Lab. This software allows you to enter patient test values and gives test reports to the patients. Small-scale accounting could also be maintained in which the billing of patient and the incentive of doctor is automatically calculated. This software almost all needs and requirement of a small to big pathology. There is no limit of storage of data in software as it can use the maximum hard disk space. You can change everything like normal value, font for reporting etc. (Means fully customizable)
Request Free Demo

Pathology, X-ray , ECG and Ultrasound Reporting.
Very Rich Reporting System.

Smart and Attractive design / facility to choose font, size etc.

Advance Searching Facility.

Just press few key to search anything.

Large Transaction Maintenance.

There is no limit of number of entry.

Facility to Write Comment on Test / Test Result and set font for the same.

You can also write description on report when ever required.

Export Facility to MS Word, Excel and PDF.

Useful to send your report thru mail to your collection center or patient.

Report Mail Facility within Program.

No need to open any mail client, you can mail report from within program.

Ready for Multi-user and support all version of OS and browser.

You can work on more than one system simultaneously for different or same purposes.

Manages Accounting and Inventory of your lab.

Maintains account books automatically.

Easy to use and learn.

Very simple and easy to use, No vast technical knowledge required.

Deletion of patient record by date range or the patient code range.

If you don't want to keep detail for future purpose you can delete it any time.

Facility to view Patient Test History for Ref.

For regular client you can view previous test and result of any patient.

Doctors Reporting and MIS Reporting.

All type of reporting required maintaining you business.

Maintenance of Stock.
Collection Report.
Day wise / Month wise or any period wise cash report.
Doctor wise Report and incentive calculation
Test wise patient and cash report
Patient wise Test Report.
Day / Month wise report.
Automatically prepare Work Chart for Technician.
List of Pending Reports / Indication on pending report.
Complete Customization.
Facility to set font and colors.
Dues list maintenance.
Profit calculation.
SMS Facility
Agent maintenance and incentive.
Incentive report.
Multiple collection center maintenance.
Multiple Rate Option.
Department wise report.
Multiple format for Report Printing at the same time.
Visit Also (Product Specific Website )

Product Features

Patient Management
To Manage Patient,registration,history,test requested etc.

Doctor Management
To Manage doctors, who refer patient to your lab for diagnosis.

Agent Management
Manage agent or your marketing agent.

Employee Management
To manage your staff, their schedule etc.

Expense Management
Manage all type of expanses like staff payment,e-bill,telephone bill etc.

Stock Management
Manage your lab stock easily by just entering only purchase and damages.

Administration
Complete Administration Dashboard allow you to manage your Lab easily, quickly and efficiently.

Report
Audit and manage a variety of reports and have them ready for a quick review whenever necessary.

Email and SMS
Easy and quick way to send messages to any user in the system. Effective communication between administration, Doctor and Patient.

Custom Module
if you need any extra module or report in software provided, you may ask us, fill free to submit your requirement any time (After purchase subscription).

Reminder and Alert
Birth day reminder, Marriage Anniversary Reminder, Important Dates Reminder and also facility to create alert for your team.

Product Price
Desktop Version @ Just 8500/- Only
Feature

Standard Version

₹ 31,500/ -



Advance Version

₹ 45,500/ -



Premium Version

₹ 85,500/ - *


Patient Management
Doctor Management
Agent Management
Admistration
Reporting
Email & SMS
Reminder & Alert
MIS Reports
Inventory Management
Expanse Management
Personalized Domain
Patient Login
Payroll
Franchise Management
Unlimited User
Collection Center
Custom Module